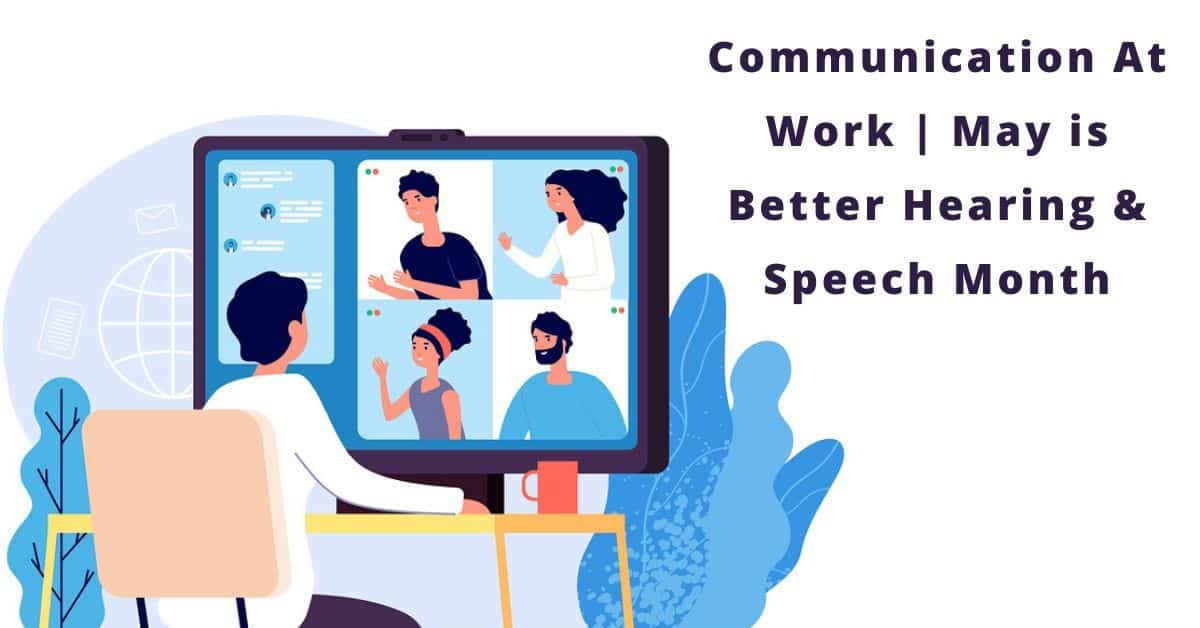 Communication At Work: May is Better Hearing and Speech Month!
Every May, the American Speech-Language-Hearing Association designates a campaign to raise awareness on hearing loss. Better Hearing and Speech Month receives a unique theme each year. This year they have chosen the theme "Communication at Work" as an opportunity to consider issues like these, as well as the way that hearing loss may intervene in otherwise healthy communication practices in the workplace. Let's consider how hearing loss might be contributing to miscommunication at work, creating an additional layer of struggle to an already challenging dimension of work.
Communication Problems in the Workplace
Take a moment to recall the last time you had a problem at work. Were you unable to complete a task by the deadline due to unreasonable expectations of the work it would entail? Did you have an argument with your coworker that impeded your ability to work together smoothly?
These are just a few of the possible instances that might come to mind. In addition to the toll that workplace problems take on your productivity and efficiency as a worker, they also amount to undue stress and anxiety that might be avoided with better work conditions. Although each of us needs to contribute productively to society, you might be wondering if another occupation is a better way for you to employ your skills.
Although these problems have substantive differences, they also can be framed in terms of the way in which expectations are communicated. Missing a deadline can be due to belated communication of the difficulty of a task. Arguments that impeded workflow can also be considered in terms of effective communication of your needs with coworkers. Managers that create a culture of disapproval may have a communication style that makes it difficult to succeed, despite the efforts of the team.
These many confounding moments in the path from process to product can be put together in the general category of workplace miscommunication, and each of us can recall a moment when it got in the way of a pleasant and productive place of work .
Miscommunication and Hearing Loss
Each of these problems can be understood in a different light when hearing loss is involved in the process of communication. Those with untreated hearing loss in the workplace struggle to put together meaningful units of information, and they may even be missing out on some entire thoughts depending on the severity of the hearing loss. A missed deadline might be due to not hearing all the tasks involved in a project and then realizing them too late in the game. An argument with coworkers might have its source in crossed wires due to issues that one party was unable to hear. A manager may even be giving casual accolades that are missed due to hearing loss, making a worker feel unappreciated. These are just a few of the possible ways that hearing loss in the workplace can lead to decreased productivity and feelings of anger, anxiety, and stress at work.
Hearing Loss Treatment and Durable Solutions
Rather than continuing in a workplace where hearing loss makes communication difficult or impossible, why not take the opportunity to focus on solutions. There are steps you can do to help a coworker with hearing loss, even if it remains untreated. Reserving your communication for times when you are face-to-face can help immensely, not only raising the effective volume for the conversant but also making it possible to read your gestures, facial expressions, and lips for context clues. You can also follow up on verbal communication with a textual note, whether it is an email with action items or a simple memo left in a mailbox that details the steps of a project.
However, these work-arounds will only get you so far along the way to better communication with someone who has untreated hearing loss at work. Professional treatment for hearing loss, including assessment, consultation, and prescription of hearing assistance, is the only way to ensure that communication is operating at full capacity as far as hearing is concerned. Of course, communication issues will come up down the road, but treating hearing loss is a sure way to prevent many of them from occurring in the first place. Contact us to learn more!